About Our Practice
Our role at Winchester Endocrinology is to assist our patients with every aspect of their health. We work with our patients one on one with the goal of providing excellent endocrine care. Visit our office and experience the kind of care you deserve!
Learn more about our physicians and providers and the type of services they provide. We encourage you to contact us any time you have a question about your health or our endocrine services. Call us at 540-678-0767 to schedule your appointment today!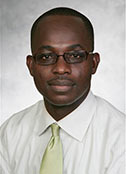 Mustapha Abdul-Rahman, MD, FACE
Board Certified Endocrinologist
Mustapha Abdul-R. MD, FACE is board certified in Internal Medicine and Diabetes, Endocrinology & Metabolism. He completed his Residency in Internal Medicine and Fellowship training in Diabetes, Endocrinology & Metabolism at Howard University Hospital in Washington, D.C. He is a Fellow of the American College of Endocrinology and a member of the Endocrine Society. Winchester Diabetes & Endocrinology was established in 2006 with the goal of providing personalized and quality Diabetes and Endocrine care to patients in Winchester and the surrounding communities. Dr. Abdul-R. spent 2 years at Yale University in New Haven, CT participating in clinical research at a CDC-Funded Prevention Research Center. Dr Abdul-R. participated in the publication of research papers on Obesity and Disease Prevention. He is a member of Doctors Without Boarders.